Modern Masters Metal Effects Rust Finish
I had a chance to work with this product at my job last week. Our customer wanted a sign that looked like an old piece of sheet steel that had been left to rust naturally. To get this effect we used Modern Masters Metal Effects Rust Finish.
The recommended first step is a special primer that blocks the Rust Activator from reaching the substrate. We didn't use it. The substrate we used had a factory applied baked enamel finish over which we used Rustoleum Rusty Metal primer to cover the white substrate.
The second step is to cover completely with Modern Masters Iron Paint. This paint is very thick and includes lots of iron particles in suspension. It's rather easy to get a textured finish with this paint using a standard foam brush or roller. The Iron paint is let dry for at least an hour, then coated a second time. We let the second coat dry overnight.
The next day, Modern Masters Rust Activator was applied with a spray bottle. This is a very thin liquid that starts the rusting process of the iron within just a few minutes. Spraying on heavy, or allowing it to pool will result in the brighter oranges, It's easy to make a rust line where water would normally run by dribbling the activator on several times and allowing it to run. A second application is recommended within 15 minutes. The activator will continue to work fo up to 24 hours with ever changing results. Once the activator dries the rusting process stops.
There is an optional sealer that can be applied to keep the finish from changing due to moisture. Our customer did not like how the sealer looked, preferring the natural finish which will continue to change over time and cause rust streaks on their building. As Niel Young put it, "Rust Never Sleeps".
Here are some pictures of our nearly finished product. After these pictures were taken some rather large bolts and nuts were added for both function (to hold the sigh to the backer) and form. Since the nuts and bolts needed to function we couldn't use the thick metal paint on the nuts or threads. Instead, I drew on my Model RR experience ans simulated rust using 5 different colors of paint; an orange base coat followed while still wet with a fog spray of yellow, bronze and black. The customer loved our nuts!
Here are a few photos -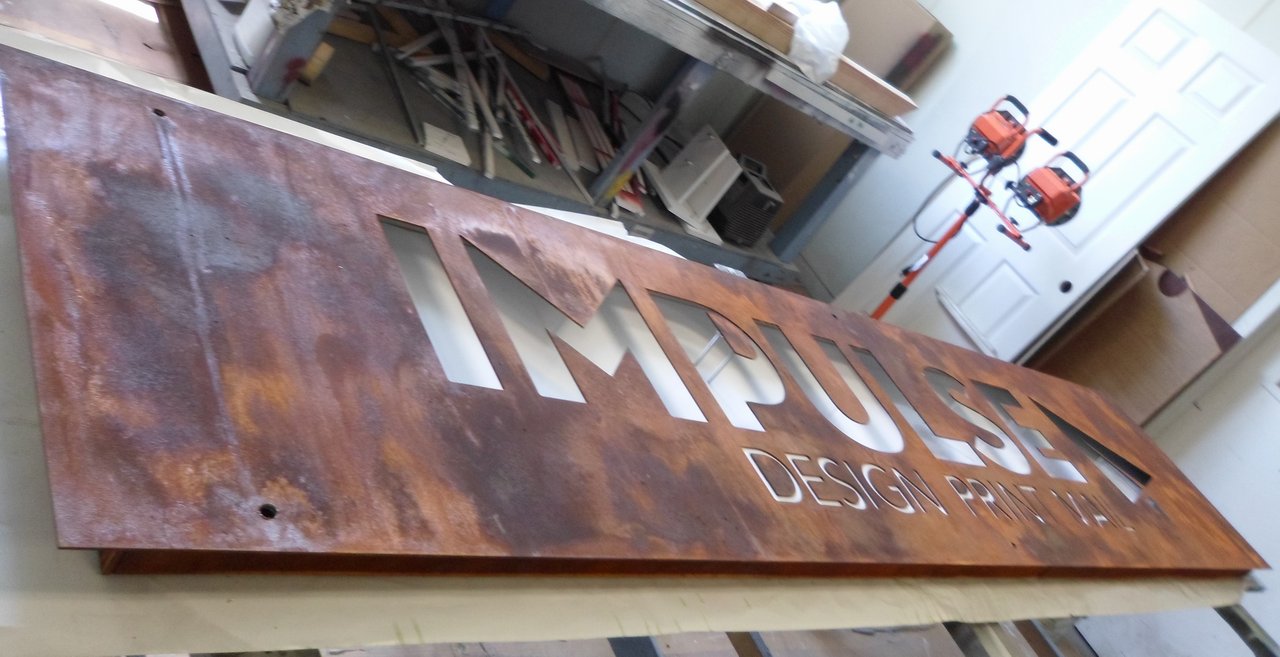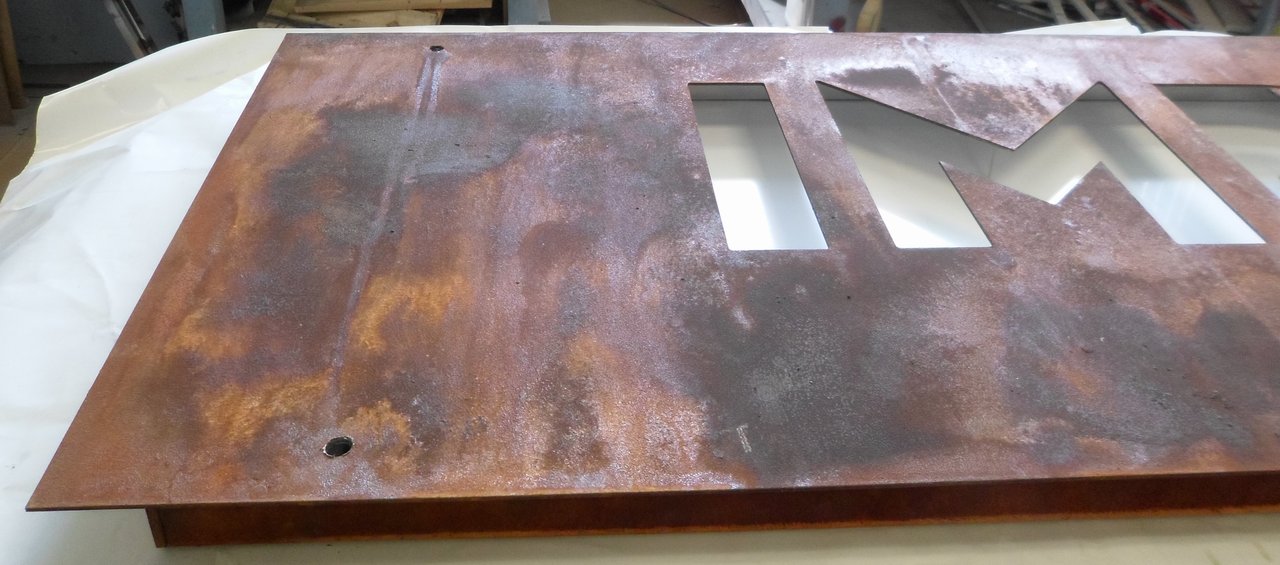 In the photo above notice the "trim" under the main panel recessed a few inches. This is 6mm black PVC rusted with the Modern Masters products. I positioned the trim pieces as shown when spraying on the activator and allowed a puddle to collect along the bottom edge resulting in that great yellow rust line.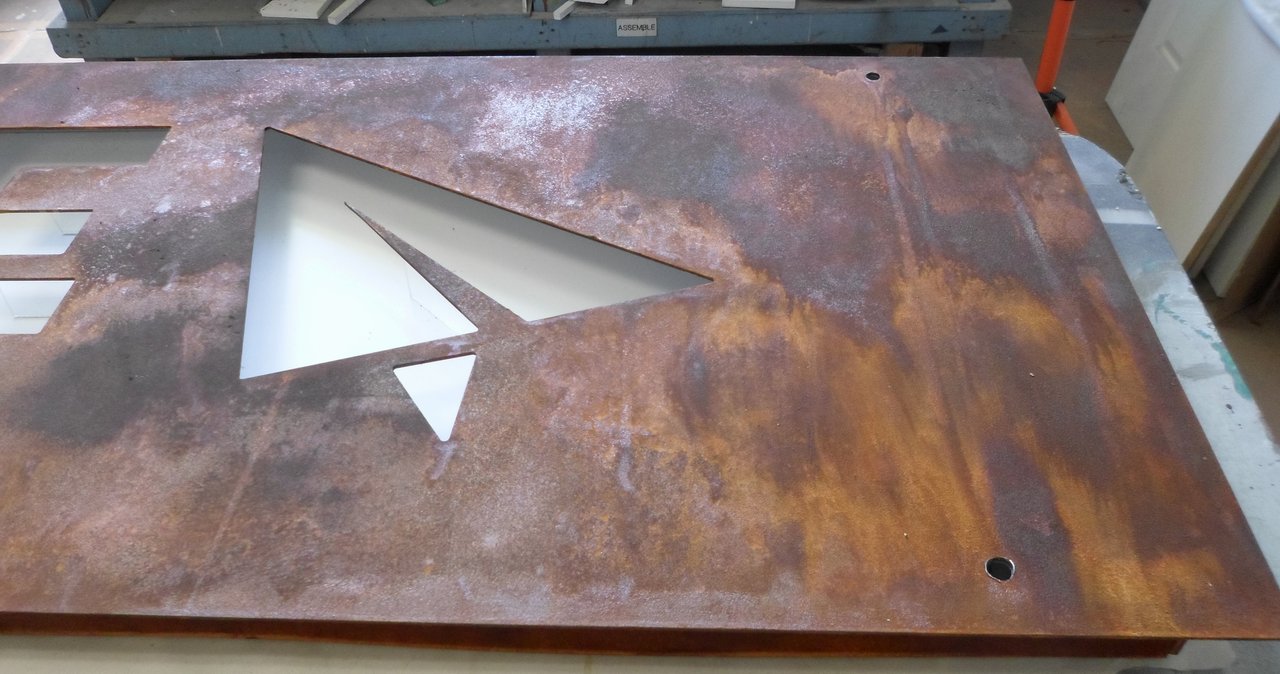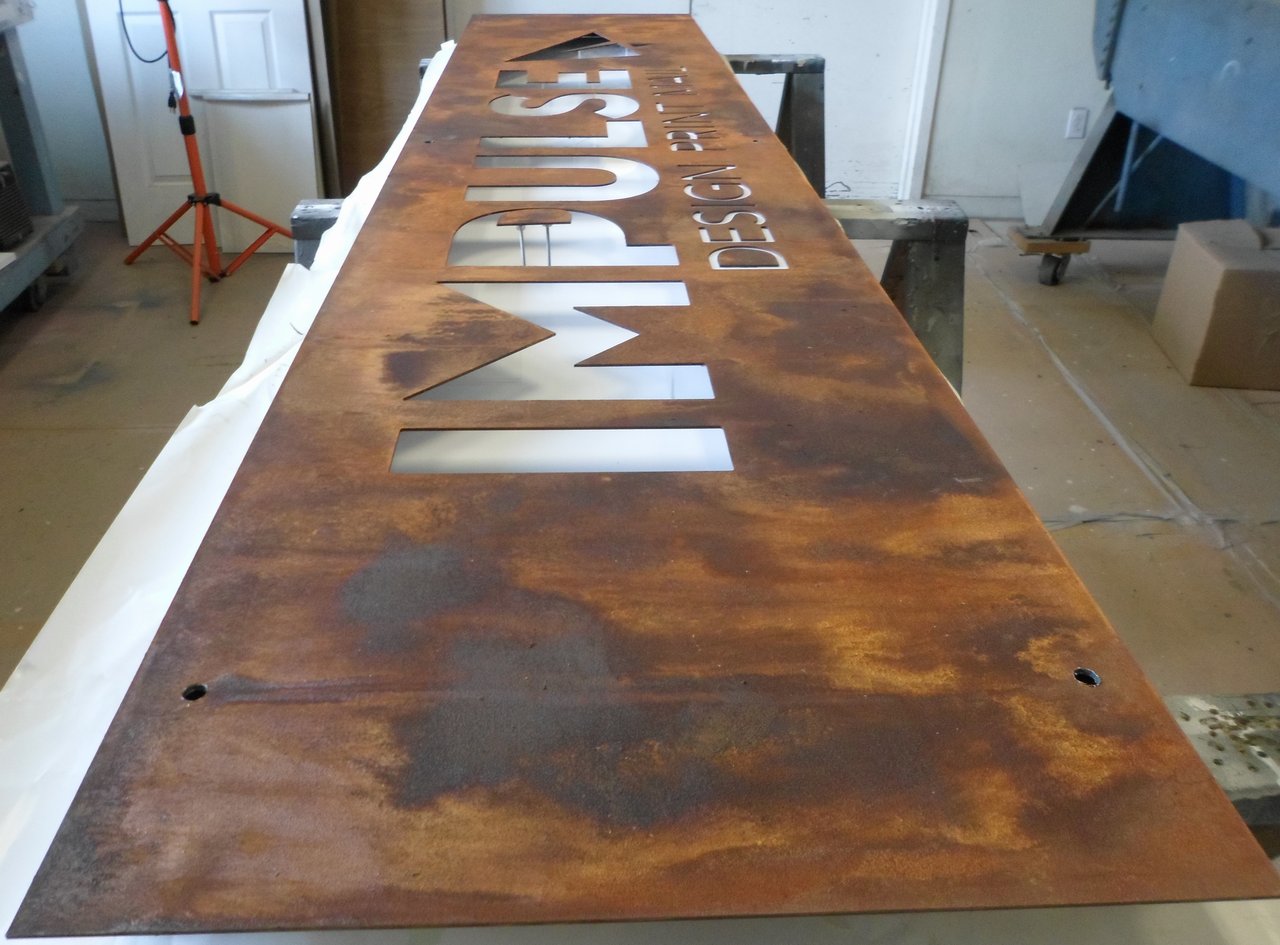 You can find more information on the manufacturer's website here: http://modernmasterscafe.com/2013/06/13/product-spotlight-metal-effects-rust-finish/
I have no interest in the company. I'm just a satisfied customer / user of their product.
And just to keep this RR related if you can't already envision an application in our world. I think I may use this on the corrugated aluminum roof of the engine house I restored last summer.
This post was edited by Jon Radder at June 16, 2015 10:49 AM EDT
____________________________________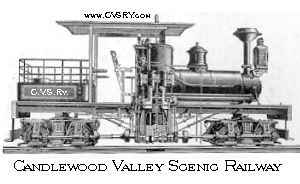 www.cvsry.com