Re-motoring a Bachmann 4-wheel Trolley
I have a couple of locos with the Bachmann 4-wheel trolley power brick under them. The latest is one of the toast-rack trolleys that I picked up from Star Hobby in non-running order. I used to rewind Mabuchi and MRC motors for slot cars, so taking motors apart is not a problem for me - so I figured I could probably find the problem and fix it.
Well, I found the problem - the brush gear on the motor wasn't connecting with the commutator. However, despite the best efforts of my big gear/wheel puller, I couldn't get the worm off to get the plastic end cap off and see whether there is a bigger problem. Then I lost one of the tiny, tiny brush springs, despite carefully placing it in a plastic container. Sigh.
Bachmann sells replacement trucks with side frames for $57-ish, plus shipping, so the cost to repair was going to be $65. Way too much for a trolley that cost me $50 and sells used for $80-100. So I went looking for a motor. The end cap has "Kader 881" moulded on it, and we all know who Kader is, so I suspected there might be other applications for it. A bit of googling and I found a note on an HO website asking if the new GBP50 had the Kader 881 same as the Spectrum locos. No idea what he was talking about, but a quick shuftie of the parts dept came up with a replacement HO GP50 motor that looked like mine. For $19.80.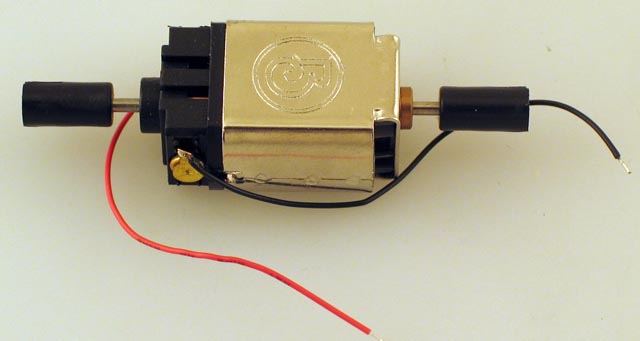 So I ordered one and it arrived yesterday. Postage was another $7 btw so the total was $26.66.
Definitely the same physical type of motor.
There's some differences around the brush gear so I will probably pull the old worm (careful application of the mini-blowtorch) and the new universal, and swap end caps. Part of the rationale is that I don't know about the windings in the motor - HO motors are rated 0-12V and Bachmann Large Scale are rated 0-18V. I suspect they are the same motor, and I'll put the meter on the windings when I get it open.
Stay tuned . . .
This post was edited by Pete Thornton at October 1, 2018 4:22 PM EDT
____________________________________