Well I know it is an older well known release but it's new to me!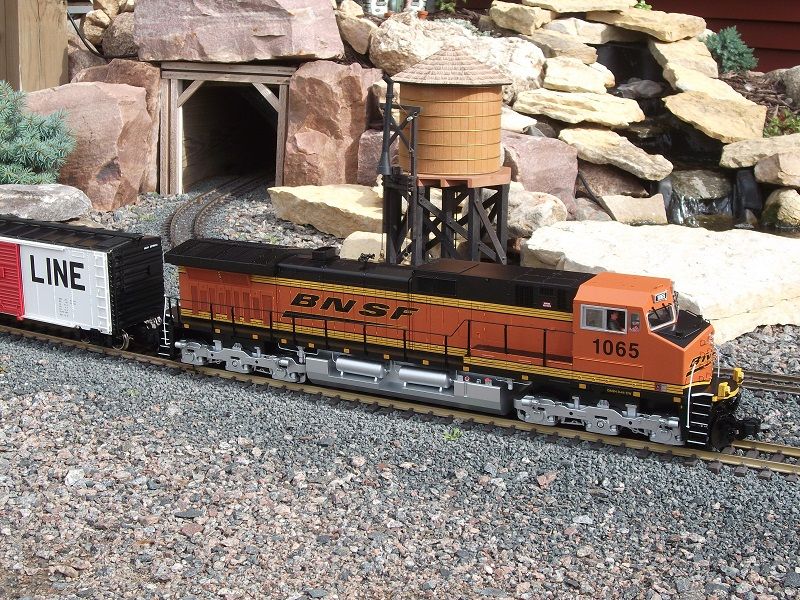 I fear I have that same feeling when I got my first K-27, and immediately sold off half of my LGB to buy more 1:20.3...This is one impressive piece of hardware!

My initial observations found a smooth running well assembled loco. The packaging was first rate assuring the engine arrived in perfect condition. Graphics are the clearest I have seen to date. A few quick passes around the layout shows it will handle 8 and 9 foot diameter curves without a hitch...Including backing maneuvers through switches (R3). It completely ignores grades that slow my 1:20.3 steamers and LGB diesels.

There are a few cons...The drives do have a slight "growl" sound, not as much as my USA GP-30 but not nearly as quiet as my RS-3 or LGB's. Perhaps the biggest downer is I have absolutely no modern stock to pull behind it! I may actually unload an unused Bachmann Forney to pick something up!

I have never really had a desire to own any intermodal equipment, don't really like them...But this engine is just screaming for them! I have to decide on intermodal or some Bethgon coalporters.

This could put me back in the 1:29 camp quick!