Getting this back on track after I derailed it myself
Now that the fiddle yard is complete, and before I update JMRI, I think it might be time to re-visit the overall plan for freight movement on the railroad. I never gave much thought to which industry originates commodities and which industries consume those commodities, but as I add more specific industries like Chandler Water (an originator of water tankers) and Brunt Coal (a consumer of coal hoppers) I think it may be time to have an overall plan. This post is not so much to ask for advice, but to organize my thoughts. I am, however, happy to hear your comments or suggestions. So to start, here is a list of industries that exist on the railroad with notes on the products / car types handled. I will begin with the Outdoor Division which never operates without originating or terminating indoors. The indoor division should be able to be run independent of the outdoor for winter and inclement weather ops.
Outdoor Division
Northville (End of N. wye tail)
Northville Foods - A food distribution center - Accepts reefers, boxcars and water tanks. Room for 2 cars max.
Indian Hill
Walk Landing Trans-Load - a freight transfer station - Accepts box cars, flat cars & gondolas. Room for 5 cars max, but only one at transfer dock.
Old Engine House - undefined industry - currently accepts flats, oil tanks, gondolas and coal hoppers. Room for 8 cars on two tracks.
Indoor Division
Honey Grove
Honey Grove Yard - This is a planned consolidation of Kistler and Tyrone yards plus the new "fiddle" capacity. The existing yards were set up as spurs with a capacity of 8 full size cars and 4 short cars (R1 territory). The new fiddle" shelving adds about 15 more full size cars of capacity for a total capacity of 23+4. All car types are accepted, but only short cars on the R1 tracks.
Nook
Nook Trans-Load - a freight transfer station - Accepts box cars, flat cars & gondolas. Room for 5 cars max.
Willow Hill
Passenger Station - accepts oil tanks (for fuel) - capacity 1 car.
LCL Dock - accepts boxcars or reefers - capacity 1 car.
Coal Dock - accepts coal hoppers - capacity 1 car.
McCown Freight Forwarding - Freight warehouse - accepts box cars, flats, gondolas and reefers - capacity 3 cars (door specific spots)
Russell Poultry - Processing plant - accepts boxcars & reefers at Spot 1 and water tanks at Spot 2 - capacity 2 cars (specific spots)
Golding Square Box - box factory - accepts boxcars, flat cars and gondolas - capacity 5 cars
South Willow Hill
Chandler Quality Water - water well head - accepts water tank on Tk 1 and coal hoppers on Tk 2 - capacity 3 cars max (2 2-bay hoppers or 1 3-bay).
Swill Tank - not currently an industry - room for 1 car - usually where engine is staged.
West Willow Hill
Brunt Coal - Retail Coal Dealer - accepts coal hoppers - capacity 1 3-bay or 2-2bay steel or wood. Probable expansion for 1 more 3 bay.
McGillicuddy Supply - undefined distribution center - accepts boxcars - capacity 4 cars max.
In summary, the only comodities that I have given much though to are water and coal. Water originates at Chandler and is consumed by Russell and Northville. Coal has no specific origin, but is consumed by Willow Hill, Chandler, and Brunt. The undefined industry at the Old Engine House could be a coal originator or consumer. There is no coal mine on-line. I have also not done anything in JMRI with schedules, specific loads, or return-when empty - things I really need to learn about going forward.
Until I had the issue of no room to move, JMRI would move cars around at most industries. Some, like Golding, saw very rare movements. My goal is to tweak JMRI so that I get movement at nearly every industry that a train services. I have quite a few routes and trains built, but in reality I run either indoor only or indoor outdoor/outdoor. Indoor/outdoor would be Eastbound, Westbound or a turn. Indoor is Northbound, Southbound or a turn. When things were moving well, an indoor turn would generate enough traffic to keep me busy for several hours. Since I usually run alone I only run one train at a time, but I'd like to plan on capability of opposing North/East bound and West/Southbound trains.
These are my schematics, not fully current, but close.
Indoor - Yards & Nook (Willow Hill section obsolete)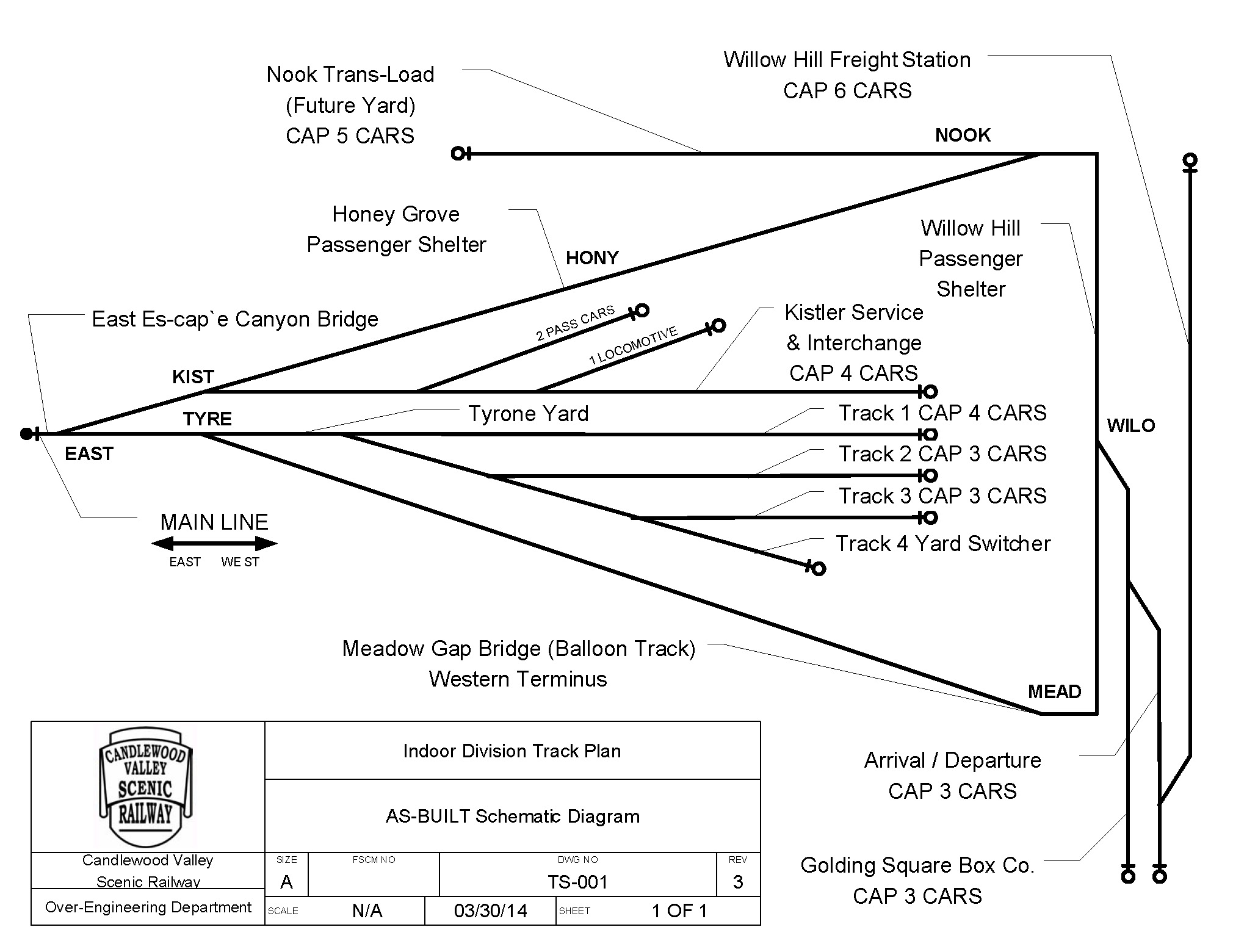 Indoor Willow Hill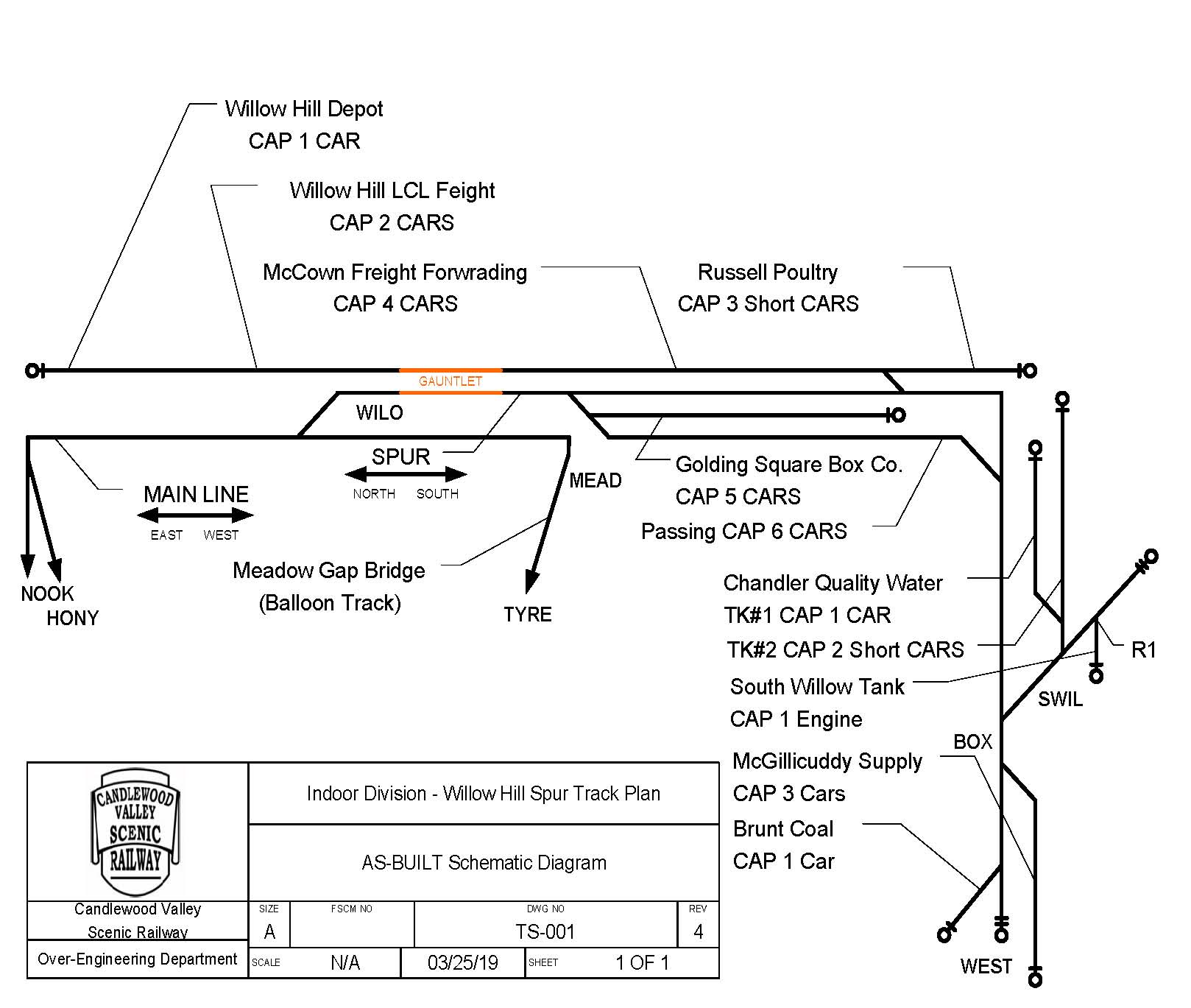 And Outdoor...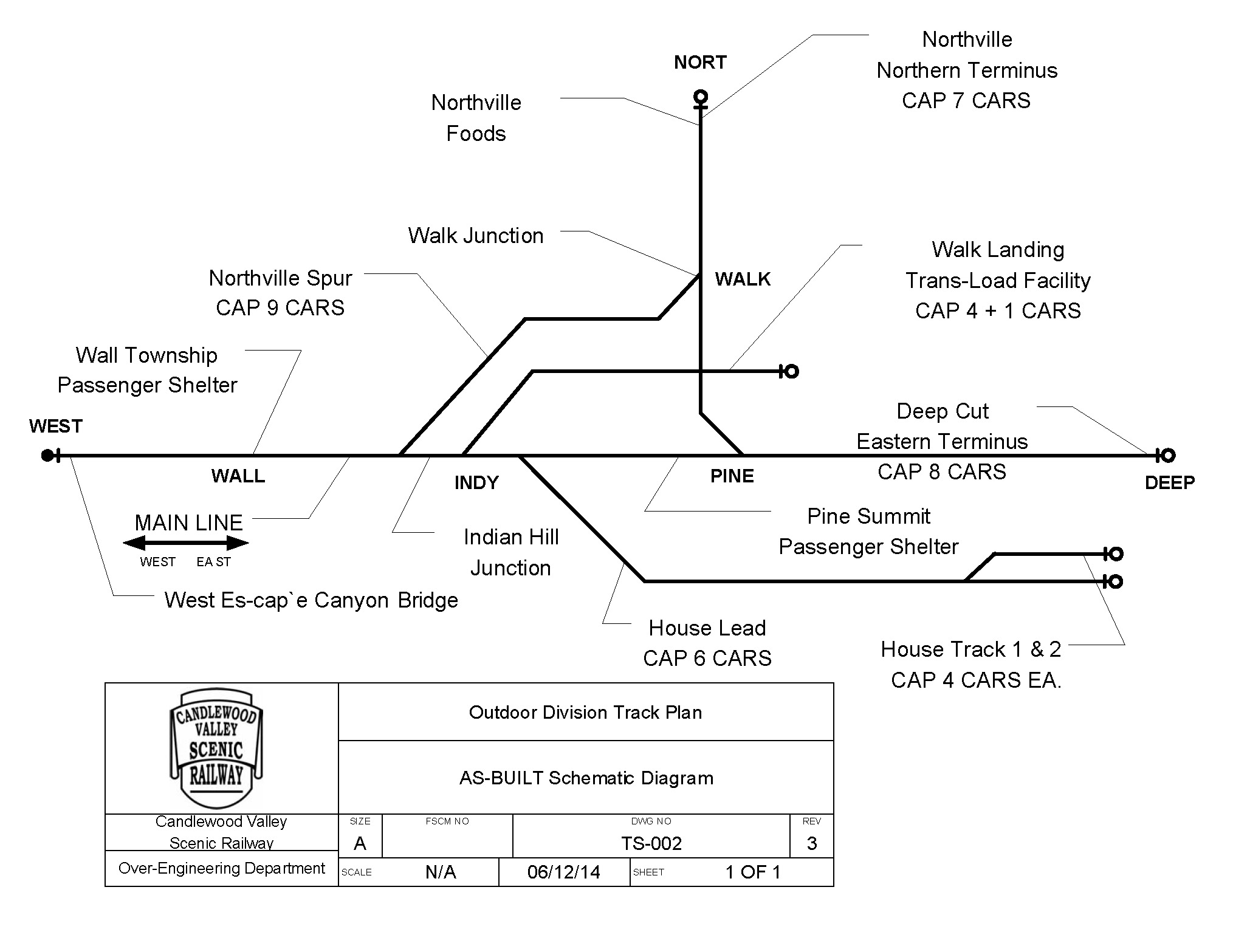 That's enough for now. As I let all this boil around in my head for a day or so I'll update as needed.