I was sidetracked with some yard work, I got the outdoor railroad's pond up and running for the year. I cut down all the dead plant stalks in the upper pond, A.K.A. marsh. I also dug out some of the peat from the upper pond, so, hopefully, it won't overflow as quickly. I also talked to a surveyor, I need my land surveyed, so I can get a permit, so I can put up a fence, to try and keep out the hoofed forest rats (deer).
Also I have been fighting with decals on the tender one of my 10 wheelers. It took several applications of Micro Set to eliminate the silvering in the decals. The decals are old, very old, and they don't want to play nice. Then I clear coated the tender. The clear coat caused the base paint to crinkle. I guess I can't use Krylon clear coat over Krylon red.
Anyway, one of the latest 10 wheelers I got up and running was originally a 12 wheeler (4-8-0)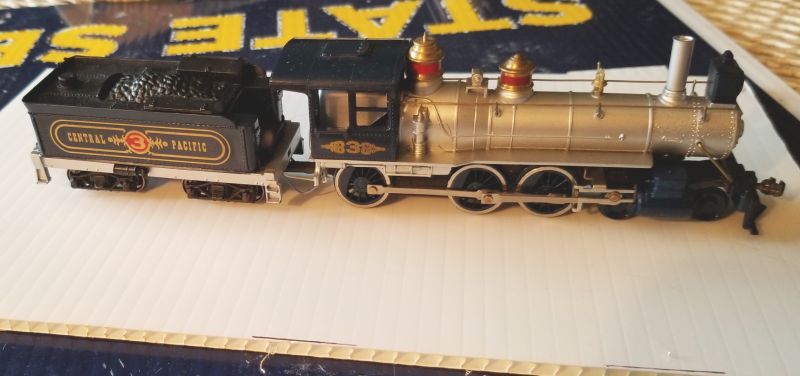 I wanted the 12 wheeler drive for another project. So I took a 10 wheeler chassis, filed the odd extra feature off the pilot, painted the wheel centers, pilot and steam chest Krylon gloss navy blue. The steam chest on the original 12 wheeler was silver, but it was all chipped and scratched. I didn't like the look of the silver steam chest, so I went with blue. The Krylon navy blue is a very close match for the blue that Tyco/Mantua used on the cab and tender. As with all my my 10 wheelers, I replaced the motor magnet, the rear driver (to eliminate the traction ring), replaced the headlight bulb with a yellow LED, and upgraded to DCC.
This is the other one i finished (to this point).

Now I have 2 black 10 wheelers (one gloss and this one that is flat) that I need to letter with road names and numbers. I am sure I will come up with an idea for the road names eventually.