So I'm going to take a few minutes for an update while Jenn is installing ties on the mainline. We have only had one day off in the last 3 weeks or so and that was only so I could do my taxes.

It became painfully clear last month that we weren't going to get everything done for the steamup...all we could do was keep building and hope for the best. We've been working 10-12-13 hour days
the last couple weeks and even 15 hours yesterday getting home at sunrise in our attempt to get the railroad ready.

The outdoor loop has been reinstalled, a temporary indoor return is installed in case it rains, and we are about
60 feet away from having the mainline completed as of this writing (4-24-2018 at 7pm PT). We should get about half or more of that done this evening and the rest tomorrow. There are no more bridges to
build so trackwork is moving fast.The new yards are partially built and we will continue to add as much as we can tomorrow.

We have created a drawing and cnc programming that allows us to create any angle frog easily by only changing the angle. Solidworks will automatically create the new frog geometry and cnc gcode based on
the cutting parameters I built into the process...its pretty cool really, but I am very tired having spent way to much mental effort the last few weeks learning the new cam system.
This will be my last post for a couple weeks. After the steam up, Jenn and I are going to Astoria for a few days to visit a steam locomotive, sing karaoke, and maybe fly a combat kite. Also, I have a Quadrajet carburetor, a 66
Pontiac tri power carb setup, and a pair of carbs off a Triumph TR6 to build next week because everybody is waiting for me to finish working on the railroad so much. No more carbs after this except my own...

To the question from Greg about the glue we use. It is a flexible sort of super glue made by DAP. Its called Rapid Fuse and takes about 30 seconds or less to set. So far it works great. We used to use liquid nails, but the
results were far from satisfying and ties did not stay put well at all.

Back to the build story...
Starting with the new yards, we used Templot to design a few iterations, but this is the final design we are building...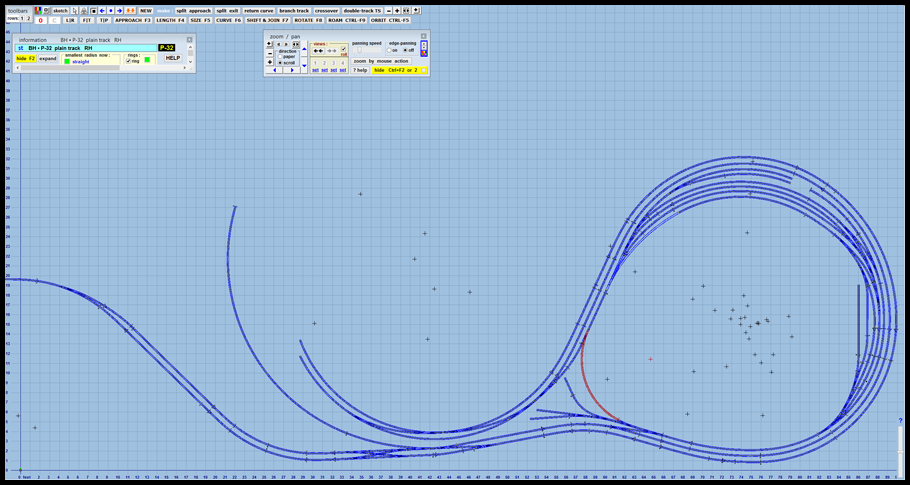 This is a huge change from what previously existed. It was a single track mainline with a couple of oddball steamup tracks. Although it looked interesting,
functionality was limited. This new design expands the storage and steamup areas dramatically. The return track colored in red may not be built, a final
decision about that will be made after the steamup. It would be nice to have a circle for testing locos so you don't have to walk the whole railroad.
In preparation to build the new yards, the table top needed to be torn off, new infrastructure built, and much larger table top area installed. While
getting ready for all that...ordering wood and making plans, Jenn and I started on the tandem turnout that is the beginning of the yard ladder.

Here is a Templot screenshot of the turnout to be built. As usual, we print the inverse and build it upside down. This cool switch uses a #7 and two
#10 frogs.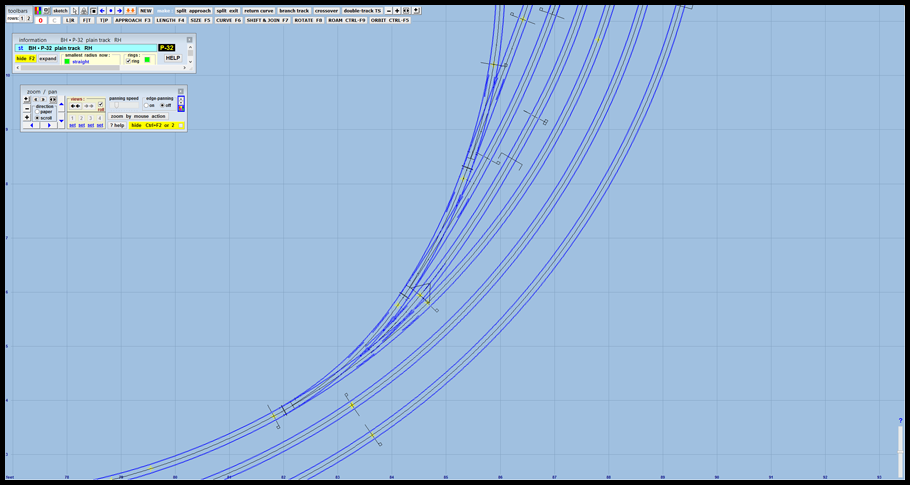 Here is some of the parts spread out in preparation for welding.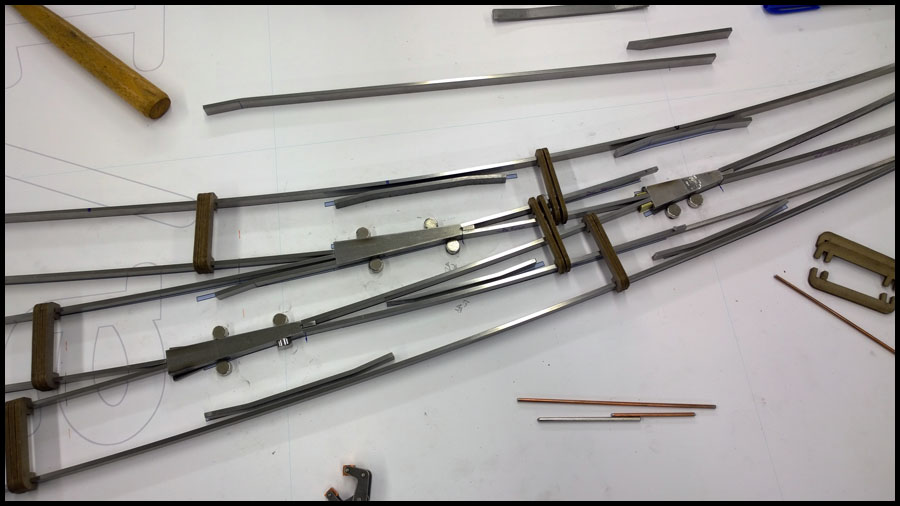 You can see that we use a lot of neo magnets in our builds. This is both a blessing and a pain in the rear. The magnets hold the parts well, but sometimes
just decide to attach to something unintended, or parts snap up off the table to be on top of the magnet instead of next to it. Still, using them works
and makes life much easier. Here Jenn is holding a pair of welding pliers to hold and place a magnet.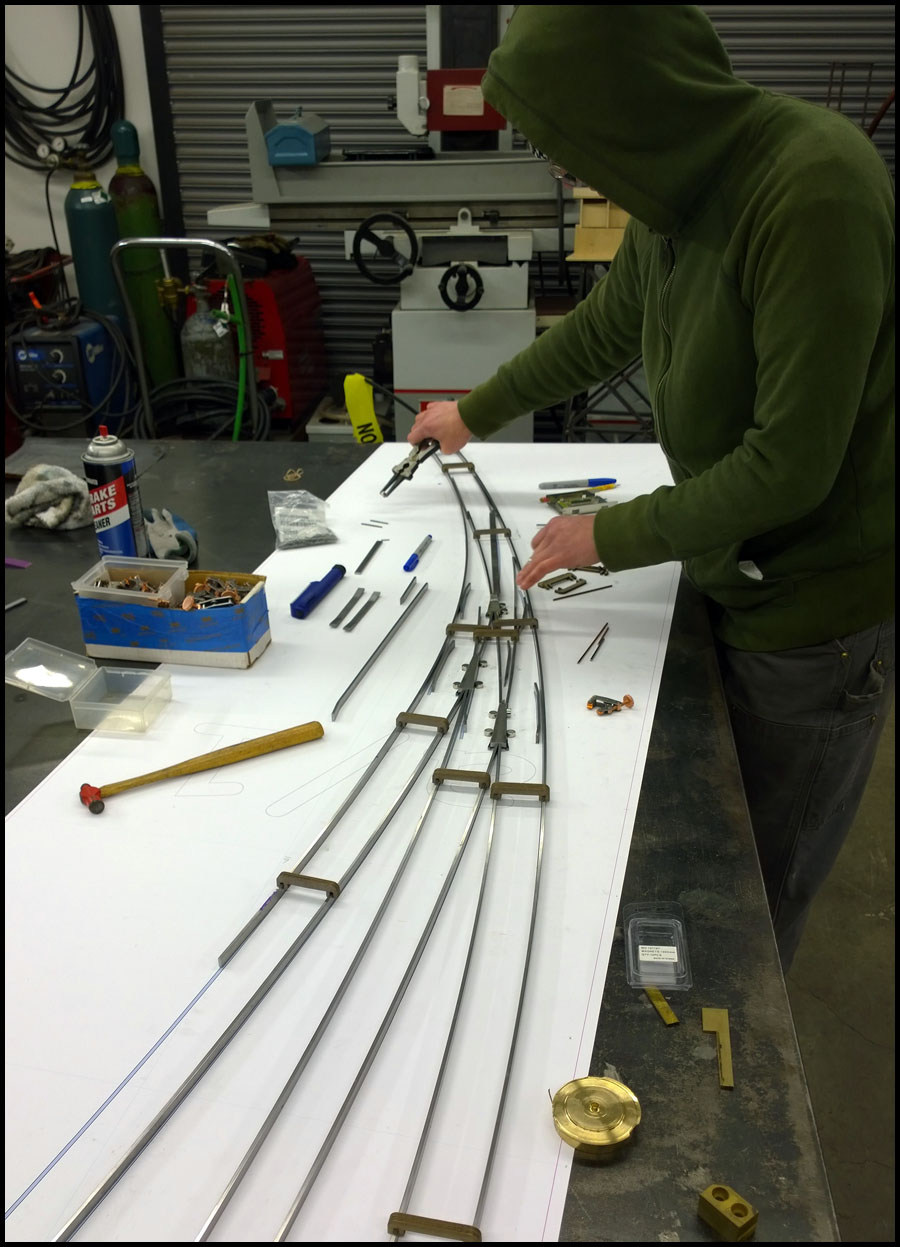 Ready for ties...





That's it for now and the next couple weeks I think. I might get exited and find time to post. I am learning my new camera and continue to document
our progress. Many pictures are ready for posting, but I have a railroad to build...

Happy steaming, and Jenn and I look forward to seeing everyone this weekend.

Karl