Thanks! The true spirit of Mik right there
@ Doug - I bought a bag of 100 12V Grain of Wheat bulbs on Amazon Prime for about $15. I also bought a bag of male/female plugs on leads that I'll use for quick disconnects. The LED's I used are all from a recycled sign. Powering all with 5 Amp 12 Volt supply. So far I'm pulling about 1.5A including some Aristo bumpers I forgot had bulbs in them.
Today I worked on getting the power finished up. Previously I just had the output of the supply connected to the track with test leads. Today I spent a few hours trying to re-learn my old track / block power set up; reconnecting wires I had lifted when doing track work and putting insulators back in the wye. I now have constant 12VDC everywhere there is track and most of the block switches are still in place, so I could use that to selectively light areas.
Next up is my Aristo switch tower, then the engine house. Hope to get a few of these Chama Lights built and placed.
____________________________________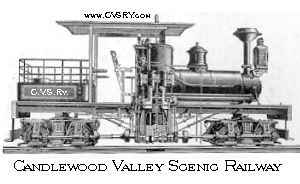 www.cvsry.com